Gemmy Airblown Inflatable 16 Animated Christmas Rudolph Express Train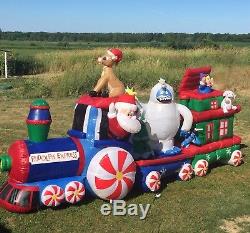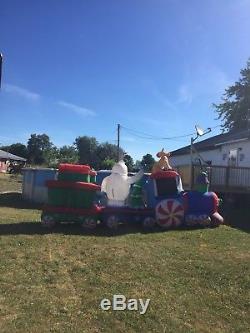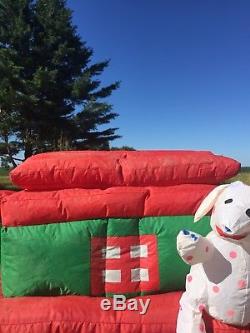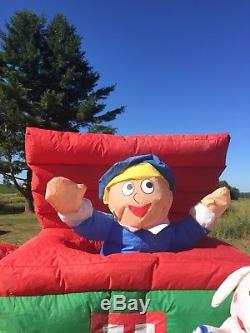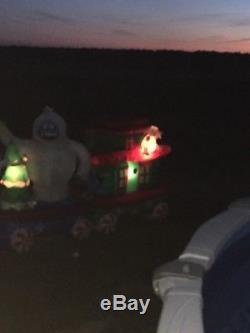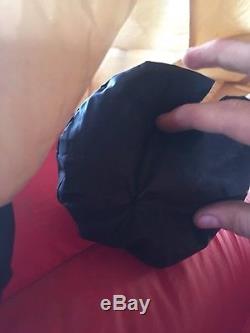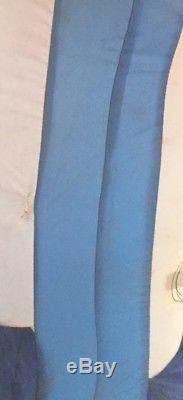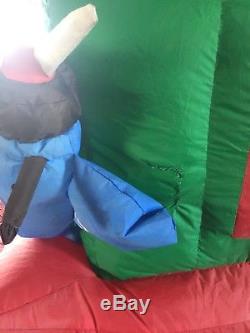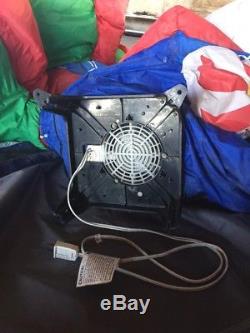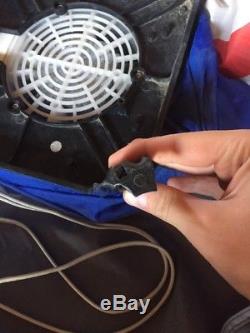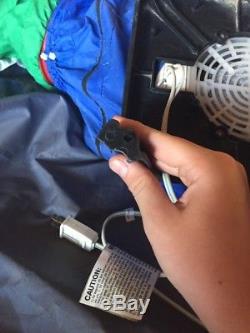 This item is a piece of art that words will not describe. Item is vintage, made in the early years of inflatables.
Item is huge, over 16 long and Id say over 8 tall from Rudolph to ground. The elf pops out of the train and goes back in. Santa waves his hand from the train to your guests. The item does light up but their are quite a few lights out, I can see that only 3 lights are working, one in the tree one in the end of train and one in the elephant.
The Inflatable looks beautiful and all animations seem to work perfect. It dosent look like any color is fading as I can see and the Inflatable inflates good, not as great as when you first get an Airblown but it inflates decent for its age. It defiantly could inflate more but it does well holding itself up and all of that. Now along with every great thing in the world their is downfalls. This item has 3 sewing spots Ive done that I can think of which I have taken images of.
Rudolph had a small pinhole in his foot which I have sewed so it wont get bigger. I have also sewed about a half inch hole in the front of the train by the window, not an issue.
The worst thing I had to sew is a tear by the plane toy, which still is pretty small and not noticeable from far away. Ive cleaned this item all up by hand, the top, the front, the bottom, the back.
Ive cleaned it the best to my ability. This and that has some dirt here and their, some things might have dirt stains, but nothing is that bad.
Bumble is 99 percent white so the dirt is very noticeable on him. You can see quite a bit of dirt on Bumble up close, but not far away. The tires and train and all characters all have some dirt, which you can take time to wash off yourself. I dont think that the fabric is thinning because as you all know it happens after many years with all inflatables. Usually when I sew an Airblown that has thin fabric, it tears more and more.
Their was none of that on this item. The fabric feels good to me and also usually the color fades when it thins and their is none of that that I can see on this item. I wish I could take more photos to show you. The item Is wet in most photos because I was hand washing it with water and soap outside.
I have taken great care of this item, and it is not in perfect shape but its in decent shape. Rudolph is a great part of this Inflatable, and his head often leans over to a side. As you can see by my photo it isnt always leaning but it happens. I dont think it leans because it is old because his head is so big and his neck is so skinny, plus he is so high up. It looks pretty cute when it leans anyways.
Alright so now you know that many lights are out, the item doesnt inflate 100 percent perfectly, and its been sewn in a few spots lets talk about the last downside, the base. Now dont get me wrong the base and item stands up perfectly, and the fan works miraculously, but 2 base legs are chipped.
This dosent really effect anything at all, but it was like that when I got it; (I got it used). I have added a photo to show how the base is slightly damaged. All the defects are shown in the images, but nonetheless this item is still great for the holidays, and holds life in it. The item "Gemmy Airblown Inflatable 16 Animated Christmas Rudolph Express Train" is in sale since Saturday, July 21, 2018.
This item is in the category "Collectibles\Holiday & Seasonal\Christmas\ Current (1991-Now)\Yard Décor". The seller is "dairyfarmersteve" and is located in De Peyster, New York. This item can be shipped to United States.