Vintage Blow Mold 34 Empire Halloween Ghost With Pumpkin & Cat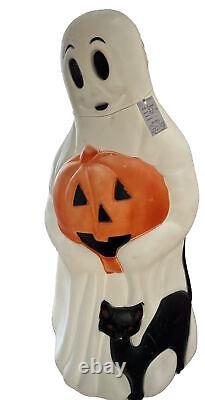 This vintage Empire Halloween blow mold features a 34 ghost with a pumpkin and black cat. The piece is perfect for adding a spooky touch to your indoor or outdoor Halloween decor.
The ghost is made of durable plastic and has a white color. The blow mold is a type of mold/form that is perfect for creating unique and festive decorations. The ghost is designed with intricate details on its face and body, including a happy expression and a cute pumpkin on its lap. The blow mold is also easy to set up and can be displayed on a stand or hung from a hook. This is a must-have for any Halloween enthusiast and is sure to be a hit with trick-or-treaters.